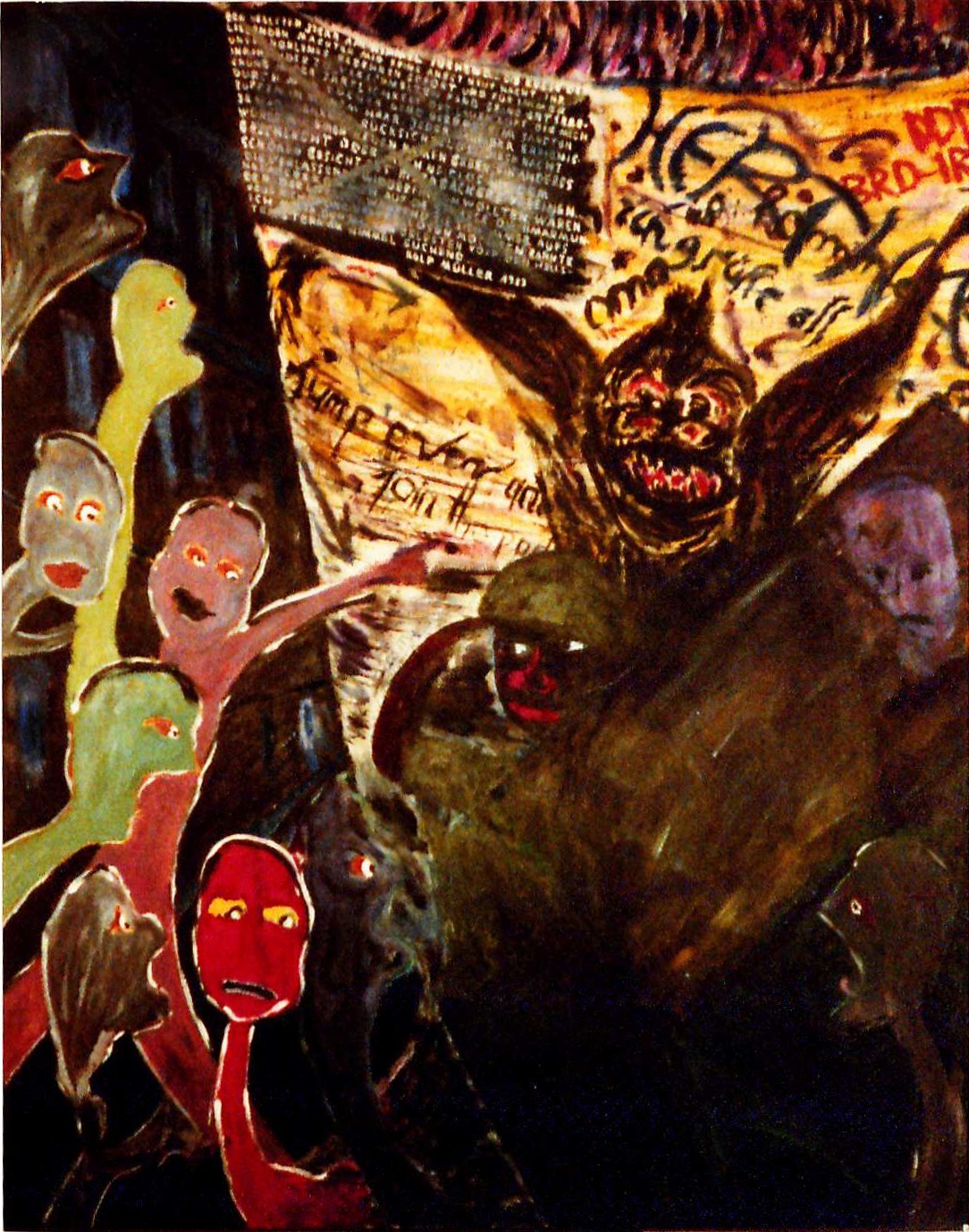 Title:
All over the Wall – King Kong ( Mauerbilder 1-3, Nr.1)

Size:
200 x 130
Artist / Location / Date:
C. Hebell, Berlin 1986
Material Painting / Frame:
Spray, Oil on Papier Mache
Description:

King Kong
King Kong used to visit the wall incognito. He preferred to stride through the death strip between wall and wall. In accordance with his charge of the great wide world he mapped out parcels for future owners of luxury real estate there.
The picture is missing like the other wall pictures. This could be described as a bad loss, as they had been included in various exhibitions (see catalogues below). The biographical issue of some would-be artists is to have spent time in New York, regardless of what may be going on. So the painter saw himself compelled to store his pictures (measures 2 x 1.60) with an acquaintance of his. They were painted on papier-mache, which he had laid in duplicate and fastened with tiny screws. Large format pictures that is to say. When he returned from the capital NY (not all appetizing, but also some beautiful adventures), the acquaintance and the pictures were no longer to be found. There was an unknown name on the doorbell. The new tenant had no idea where ​​his predecessor might have gone. Further investigation revealed that the images had temporarily been seen in a gallery called "Flying Tool". This gallery was as hard to find in the city as the missing man himself. Later, it turned out that he had travelled to New York at almost the same time as the painter himself. Perhaps he had even met him there in the streets without recognizing him. So "King Kong" has now the importance of a misssing museum. As a prominent visitor to the death strip, he keeps all secrets to himself.
At the bottom of the picture are two GIs patroling along the wall.This was rare in the late phase of the building. The tourists approaching from the left are very schematized. They study with enthusiasm the writing of the wall, which also shows a quotation from the poetry of the pizza bakers in the upper left corner. The text hard to decipher. More than once the painter tried to reconstruct it with the aid of a magnifying glass, but the letters are too small. The writer, whom we can identify by the signature as Rolf Müller, is probably a pseudonym.